Welcome to my Overbecks Petit Basset Griffon Vendéen Website
Petit Basset Griffon Vendeen means small, low to the ground hound from the Vendee region of France and used for rabbiting. Their nickname is the happy breed and they are certainly that - always smiling and into mischief.
I have admired these little dogs for some years now and when the opportunity arose to have one I was delighted. My Petit Basset is called 'Beri' (who thinks she is a Rottweiler) was born on the 19th January 2005.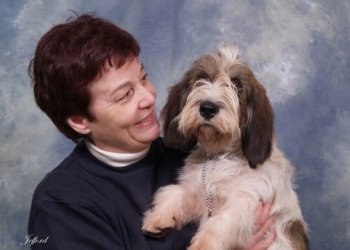 Haliston Risette With Overbecks (Beri)
Beri is from the Haliston Kennels of Rose Phillips from Lincolnshire.
Whilst on a Rottweiler judging appointment at Newark I met Rose and she invited me to her home to meet her hounds which I did the following day. She explained about the litter that was planned and Beri was one of the resulting puppies.
Beri has been very successful in 2005 and qualified for Crufts 2006 at the tender age of seven months. She has already qualified for 2007 and now 2008 by winning her post graduate class at Malvern, a second at Kelso and a third at Blackpool and I am of course thrilled with her achievements. 2009 was a busy year for her qualifying several times for Crufts and now already qualified for 2010.