PBGV Puppies
Beri produced six healthy puppies on 15th November 2007, 4 bitches and 2 dogs, one at least bound for Australia in the New Year. She is a fantastic mum.
Here are some pictures of her puppies shortly after they were first born.

One of Beri's puppies, Overbecks Veuve Clicquot, is now in Australia and it looks like she was having a great time in quarantine. Here are some pictures that her new owner has taken - life's just great!
| | |
| --- | --- |
| Phew! | This is the life! |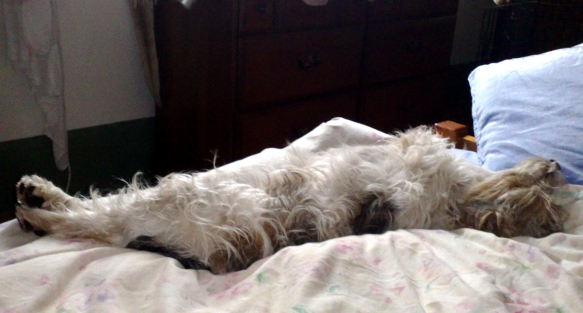 Clicqi Do having a little sleep in the other morning

Beri, Billi, Henry and Marmite - photo by Starprint
In July 2010 Marmite (Overbecks Roederer Cristal) was mated with Ch. Gemshorn Rocky and six puppies were born on 30th August, 3 dogs and 3 bitches. Marmite has been the perfect mum and has simply adored looking after them. I have kept two Dixi (Overbecks Elluva Risk) and George (Overbecks Cheddar George). Throughout the last nine weeks we have taken numerous photographs of the pups and here are a few of them.