How it all Started
It all started back in May 1994. My husband and I had been to the Royal Windsor Horse Show. We were walking round the trade stands when we spotted a security guard with his Rottweiler surrounded by children who were making a great fuss of the bitch. We approached the guard and spoke to him about his lovely dog. From that day we knew that was what we wanted.
This was when Overbecks Rottweilers began.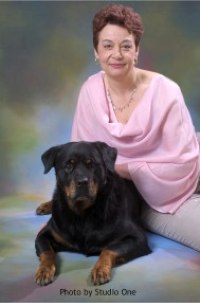 Jazzie (Scanian Garbo At Overbecks)
"My Champion"
I will never give up on my Rottweilers but know that age and "cranky knees" catch up with us all and I am not able to run them as much as I would like in the show ring. I will always plan to have two or three Rottweilers to show if possible but know that my "retirement breed" will be these little devils.