Letters From New Puppy Owners
Hello Lynne,

I hope you are well.

Things are just fine with Miss Peggy. We went to the vet on Friday and she is booked into a 'puppy party' (lord I never thought I'd be doing this...) as she has not had any contact with other dogs I thought this would be a good idea until she can go on the common and socialise.

She is healthy and happy and now coming out with me in the basket in front of my bike, for short runs to get used to the traffic and the movement. I've lined the basket with a large draw string bag, which fits snugly over the basket and provides her with a wind break, and protection against her claws getting caught in the basket. It is padded on the bottom and she accepts this with no difficulty. As she in now alright wearing a collar, I have attached this to the basket in such a manner as to allow her to move about, but not to hop out. (she is not actually attached in the pic but it gives you an idea).

She is very fastidious ( as was our last Griffon, Peggy) and lasts the whole night without messing her basket (I take her out at 23.00 then at 05.00).

She is eating well and seems very happy.

We have not yet been to the studio, however I have bought a play pen for there as well as the house and she has loads of chewy toys in both baskets.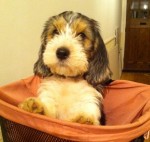 Miss Peggy has learned to sit, (with the help of a clicker and lots of treats) and to let go of the toys.... hummm. almost....

We love her very much.

best regards,
Scarlett and Michael
Hi Lynne,

Well we have been to the vets and Doris stole everyones hearts, total clean bill of health, first jab given didn't turn a hair bless her, she has had her microchip and she just sat and looked, she is clean and dry at night and asks to go to the toilet by sitting by the door.

She has settled as if she has always been here, eating well playing well, loves it outside, mind you it was windy this morning and she wasn't sure just what to do about it but chasing leaves, life is great.

Lynne thank you so much for our darling little girl she is a total joy

Sandra and John xxx
Dear Lynne

Thought it would be nice to keep in touch and show you how gorgeous Lewie is! He's full of mischief and is always stealing things he shouldn't do and runs off down the garden!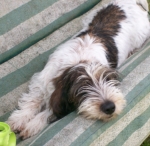 Hope you like the picture, Lewie at home relaxing on the garden swing in the sun!!

We hope you, Berri and the Rotties are all well

Best Wishes
Sarah, Mike, Charlotte, Jessica and Lewie xxxxx
Hi Lynne
Betty is just the sweetest of girls.she is the best thing that has happened to Basil. They are just best of friends.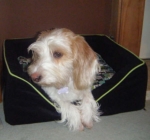 She is so loving and just wants to be with you all the time.
We love her to bits she's a smashing little girl

She eats well,sleeps well .plays hard!!! perfect dog!!!

Thankyou. xxxx
Dear Lynne,
I am writing to thank you for helping Jane and I in getting our new dog. We went to Devon yesterday (a mere 476 mile round trip which meant using the M5 on Bank Holiday Monday!!) to get Florence from Paul Sparks. You were quite right about the grass growing in the middle of the road down to his kennels. You were also quite right about her being a lovely dog--she is absolutely gorgeous! She travelled quite well and is already showing signs of settling into her new surroundings. Once we have taken her to the vets for a check up and vaccination (tomorrow) we will send you a photograph of her. At present she stretched out on her new bed sleeping.
Thank you so much for helping us to find her.
Paul and Jane Duke