PBGV's Show Successes
Beri has given birth to six healthy Petits, what fun they were and so naughty. One, (Overbecks Veuve Clicquot) is now in Australia and being shown with success. Three puppies have remained with me, (O. Billecart Salmon, O Roederer Cristal and O Louis Roederer) who will commence their showing career shortly along with Beri who is teaching them a thing or two!! As I have said before these little chaps will be my retirement breed.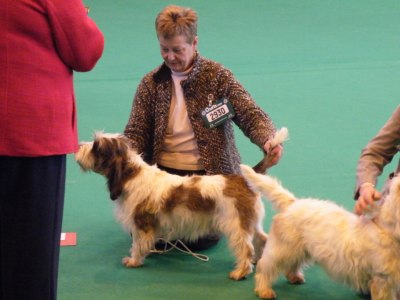 This is Henry winning his junior class at Crufts March 2009
automatically qualifiying him for Crufts 2010
Henry also won the Post Graduate class at Crufts 2010 too and we hope for continued success with him.

Marmite was Reserve (4th) in the equivalent female class out of 13 exhibits and we look forward to taking her back in the ring.
Henry and Marmite have continued to do well winning consistently throughout 2010 & 2011 culminating in Henry winning Supreme BIS at Milton Keynes 2011 and subsequently qualifying him for the East Anglian Super Dog Competition in March 2012.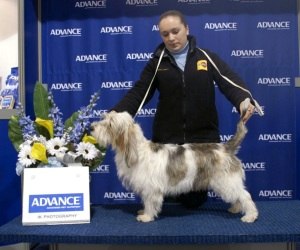 Overbecks Veuve Clicquot owned by myself and Dr. Roberta Veale wins BP in Breed at The Royal Adelaide Show, South Australia, September 2008.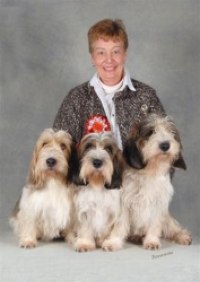 Overbecks Roederer Cristal, Haliston Risette with Overbecks
and Overbecks Louis Roederer
www.dewerstonephotography.co.uk
What the Judges Said
Below are some of the 1st place critiques that Henry and George have received from judges:
Henry: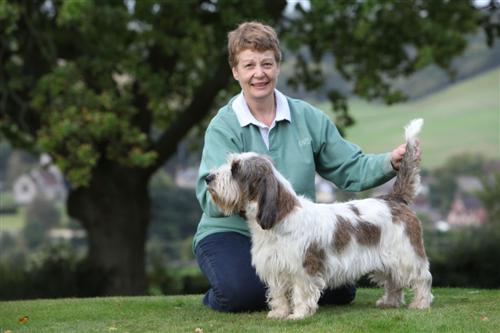 "Overbecks Louis Roederer" - Good topline and spring of rib, nice head with appropriate facial furnishings, good eye shape and colour, moved well with nice tail carriage, correct coat texture. BOB. Judge - Mr. D. Adams
Lovely type, correct head, good dark eye and earset, neck set into well laid shoulders, good sternum and spring of rib, balanced throughout, stifles good, not too angulated giving good rear drive. Judge - Mrs. Helen Bamforth.
Nice tri colour, good sound front, nice soft expression, lovely dark eyes, good reach of neck, well bodied, good sound hindquarters, moved well. Judge - Mr. C. Baker (Crufts 2010).
Pleasing young dog who excels on the move, handsome head with lively expression, good length in neck leading into well made shoulder placement, deep chest and prominent sternum, sound mover showing good fore and aft, harsh coat in lovely condition and handled well. Judge - Mrs. Denise Courtney.
Good head, straight front, level topline, good harsh coat, moved true with drive - Judge - Mr M Carpenter.
Well made boy with good bone and substance, super head with well defined stop and lively expression, strong neck of good length leading into good shoulder placement, deep chest and prominent sternum, free mover showing plenty of drive from well made hindquarters, in lovely condition and expertly handled. - Judge Mrs. Denise Courtney (Crufts 2009).
Just eight months old, all on his own but held the stage in this class, well shaped head of correct proportions, excellent reach of neck, tight shoulders, strong topline, moved in a mature fashion. - Judge - Mrs. V. Foss.
A nice quality dog who has a general appearance typical of the breed, pleasing head and expression, nicely shaped dark eye, carrying enough substance and needs to tighten in front, well made body with good spring and depth of chest, firm level topline with strong hindquarters, moved well specially behind. - Judge - Mr. Graham Hill.
Still maturing, good head, balanced outline, great movement and never stopped showing, BIS and Supreme BIS. - Judge - Mr. Ian Layfield.
Pleasing head and eye, good well placed leathers, tight front, good coat, ribbing, topline and tail set - Judge - Mrs. V. Phillips.
Nice expression in well proportioned head, square muzzle, good bone and ribbing, level topline, harsh coat, free mover, showy and in nice condition. - Judge - Mr. Gavin Robertson.
Quality well shaped head, nice eye, correct ear shape, level back and good quarters, well bent stifle, nice coat, sound, active mover. - Judge - Mrs. Marian Spavin.
This dog has done some good winning so I was keen to handle him, he did not disappoint me, head of good proportions, keen dark eye and friendly expression, nice neck length into well placed shoulders and good front, correct body size which led to very good quarters, very well angulated, which won him the class, as he moved with drive. - Judge - Mrs. Diana Sadler.
George: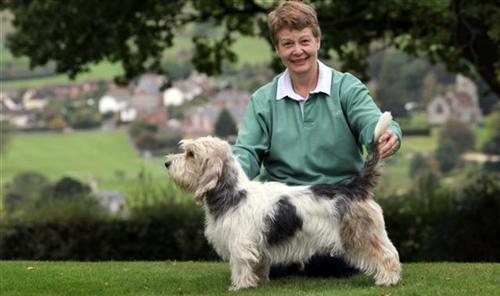 Overbecks Cheddar George, well made nine month old mature puppy, lovely head and expression, correct length of ears, neck flowing into good shoulder placement, good sternum, rib cage reaching well back, well boned, strong hindquarters, moved well. - Judge - Mrs. Helen Bamforth.
Nine month old tri baby with a super head and dark well shaped eye, very nicely constructed all through, presents a quality picture of the breed, just needs time to settle to the job in hand, presented very well. - Judge - Mr. B. Foster.
Solid, masculine dog, hounds head, strong neck, good bone, ribs and body, harsh coat, muscular rear, moved well. - Judge - Mr. Stuart Milner.
Very nice exhibit with lovely outline, masculine head, dark eyes giving a sweet expression, fine curling ears, strong neck into good shoulder angulation, nice bone and feet, showed happily. - Judge - Mrs. Marianne Nixon.
Super head and expression, lovely forehand, good depth of chest and ribbing, excellent topline, well made and muscled hindquarters, in excellent condition, moved smartly. - Judge Mrs. Serena Parker.
Alone in his class, very typical head and expression, good length of neck, fantastic front construction and angulation, firm topline, with strong rear quarters, RCC. - Judge - Mr. Anthony Rees.
Very nice head and expression, long neck, well laid shoulder with good ribbing, level topline, strong quarters, moved with good front reach. - Judge - Mrs. Zola Rawson (Crufts 2012).
Very promising with most endearing of expressions and super dark eye, correct ear placement, neck of good length, good shoulders, tight elbows, straight front and well boned, sufficient length of back, strong hindquarters for age, when settled moved straight, BP. - Judge - Mr. Robin Sadler.
Quality youngster who obviously still needs to fill out and mature on. Good type and shape, liked his moulded head and correct coat. - Judge - Mr. Ken Sinclair.